Lemon rice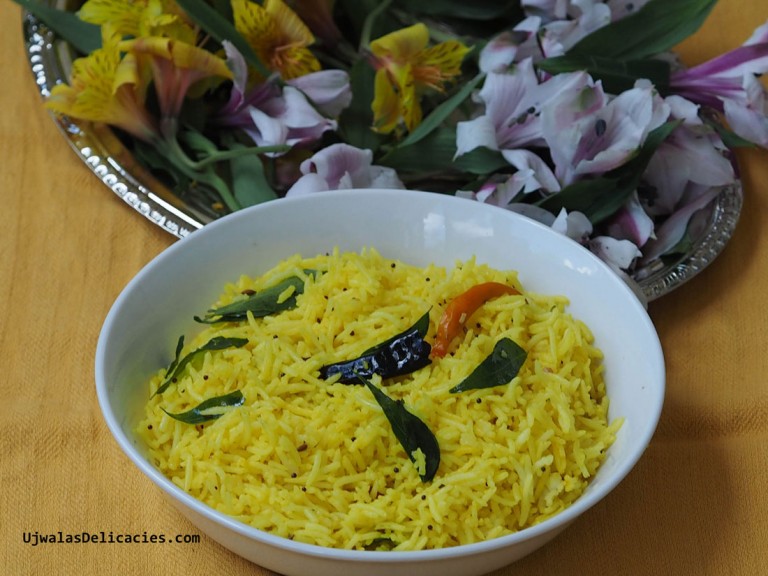 1 cup white rice. Can substitute with quinoa or brown rice
1-2 tbsp freshly squeezed lime or lemon juice.
2 tbsp - oil. I used coconut oil.
⅛th tsp - turmeric powder
½ tsp - black mustard seeds
½ tsp - cumin
5-8 red or green chilies or both
2 tbsp - non-salted peanuts
1 tsp - Bengal gram (urad) lentils. You can skip if you don't have.
2 tbsp - curry leaves
Salt
Cilantro
Cook rice in 1¾ cup of water. Add ½ tsp oil. Let it cool.
Place rice in a bowl. Spread rice grains apart with fingers.
Add lime juice and salt. Mix well.
Now prepare for tampering.
Add oil to a small pot. Heat to medium.
Add red chilies, fry till brown.
Add mustard seeds. When they start spluttering, add cumin. Fry until golden brown.
Add peanuts. Fry until golden brown. When they are golden brown, add urad dal. We add ingredients one after another so that they are evenly fried and remain crunchy.
When dal is golden brown, add curry leaves. When they stop spluttering, add turmeric. Turn off heat.
Add hot tampering to rice. Mix well.
Garnish with cilantro.
Serve with sautéed potato in spices or eggplant.