Purslane with mung lentils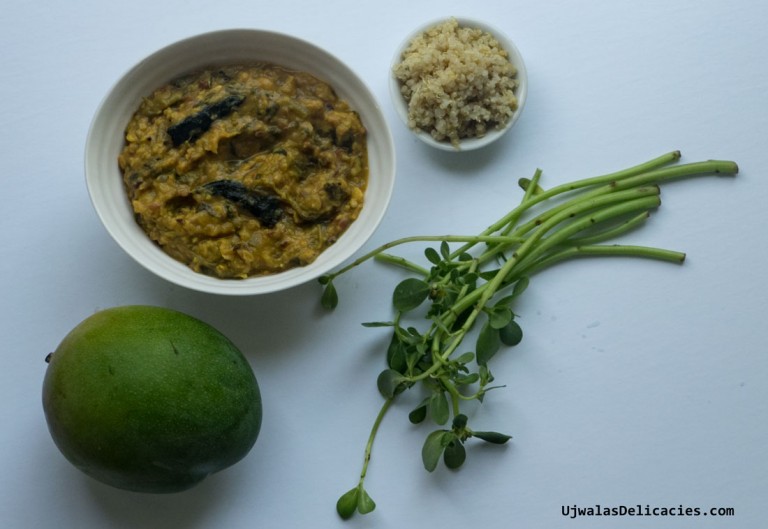 1 cup split moong lentils with skin.
1 cup purslane leaves
1 raw sour mango or tamarind juice
1 small onion
3-4 tbsp healthy oil
5-10 red chillies depending on spice level
salt
chopped cilantro
For tampering
½ tsp mustard seeds
½ tsp cumin
¼th tsp pure turmeric powder
2 sprigs curry leaves
½ tsp chilli powder - optional
½ tsp coriander powder
If you are using tamarind, soak 1 inch tamarind ball.
Wash moong dal thoroughly. Heat 2½ cups of water in a pot. Add salt and dal.
If using raw mango, cut into ⅓ inch pieces and add.
Add onion cubes. Cook for 20 mins approx. Dal Don't let it cook till mushy.
Meanwhile wash purslane leaves thoroughly. Cut edges. Leave healthy stems. Cut into ½ inch. Add to dal.
If using tamarind, squeeze juice and add.
Cook for 5 minutes. Turn off stove.
Now prepare for tampering
In a small tampering kadai, add oil. Heat to medium high but not smoke.
Add red chillies. Fry till golden brown.
Add mustard seeds. When they splutter, add cumin.
Add curry leaves. When they stop spluttering, add turmeric.
Turn off stove. Now add chilli powder and coriander powder.
Immediately add tampering to cooked dal.
Serve hot with roti or rice or quinoa.
Recipe by
Ujwala's Delicacies
at http://www.ujwalasdelicacies.com/purslane-with-mung-lentils/