Kale whole-grain masala vada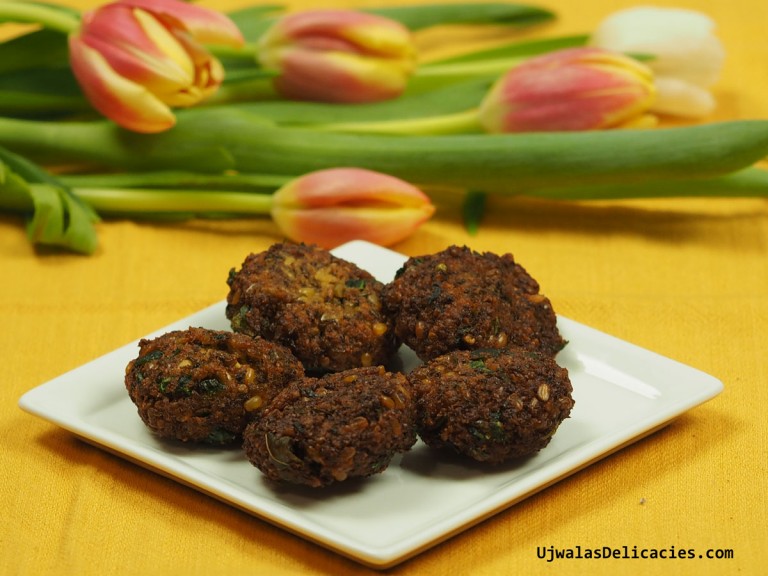 1 cup finely chopped kale.
3 cups split whole-grain moong dal
5-10 green chillies.
4 - spring onion sprigs
10-15 curry leaves
1 bunch chopped cilantro
1 tsp - cumin
Salt
2 cloves
½ inch Chinese spicy cinnamon stick
Soak moong dal for at-least 2 hours. Maximum of 4-5 hours.
Discard water, drain in colander for 20 minutes. Shake few times to drain water.
In food processor, add cinnamon and cloves. Grind to powder.
Add ¾th of moong dal, salt, chilies, onion springs, cumin and enough salt.
Grind to course batter. Leave lentils a bit grainy. Do not grind to smooth paste. If you are using grinder, pulse slowly to make coarse, grainy batter. Running grinder continuously makes it a paste.
Remove batter into a bowl, add remaining ¼ moong dal which wasn't grinded, kale, curry leaves and cilantro. Mix well
Heat oil in kadai.
Make 2 inch round balls and press flat.
Add to oil. Fry them in medium heat. Frying in high heat will make outer part burn and inside will not cook. Turn vada's. Fry till vada's aren't bubbling anymore.
Add paper towel to a bowl. Remove fried vada's into bowl.
Serve hot with fresh chutney.
Recipe by
Ujwala's Delicacies
at http://www.ujwalasdelicacies.com/whole-grain-kale-masala-vada/