Banana leaf wrapped veggies cooked in green Coconut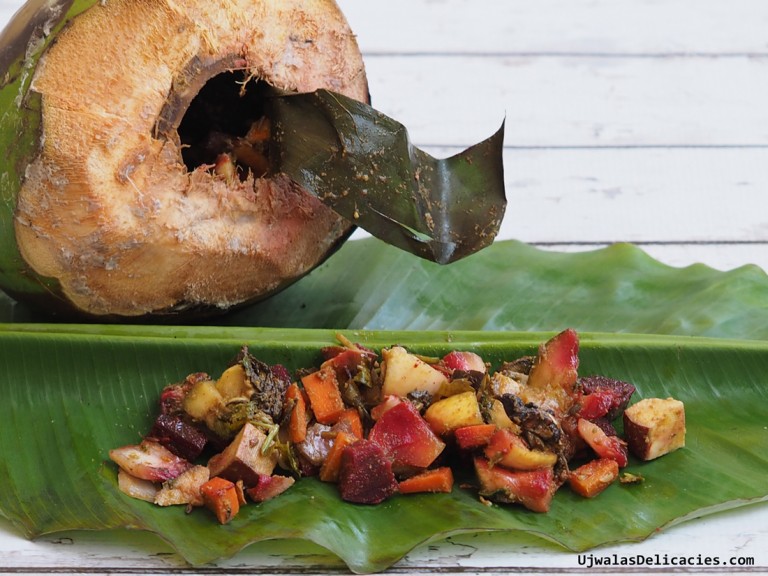 2 Green coconuts. When you buy green coconut, consume water. Instead of throwing, make opening a bit wide and bring home.
1 fresh or frozen banana leaf
1 Carrot
1 Onion
2 - spring onion
1 Sweet potato
1 potato
1 beetroot
5 fresh green beans
1 zucchini - optional
Pink Himalayan Salt
½ - ¾ tsp - Chili powder
½ - Coriander powder
½ tsp freshly grated coconut
3 - star anise
5 mint leaves
½ tsp - cumin powder
Cilantro
Sealant for coconut:
½ cup wheat flour
Water
After consuming coconut juice, cut and make 2 inch opening to coconuts.
Mix enough water in wheat flour to make the dough. Knead well. Cover with wet towel.
Wash, peel, and dice into all vegetables.
Mix all ingredients thoroughly.
Wash banana leaf.
Carefully place banana leaf inside the coconut. Make sure it covers around coconut walls.
Spread vegetables so that they are not crowded in the bottom.
Stretch wheat dough and cover the coconut opening completely. Press to make sure it sticks.
Take coconut, place on a gas (propane) stove. Keep the heat on low. Debris from coconut burning may fall on the stove. Be ready to clean.
Cook for 1 - 1½ hours. Beetroot takes longer to cook. If you don't have beets, 1 hr cooking time is enough. Cook 1½ hour if you have beets. You don't have to turn coconut while cooking. Since it is sealed, veggies will be cooked. Make sure
Turn off the stove. Let it cool. Remove dough.
Remove vegetables into a bowl.
Serve hot. You can mix veggies in the salad or eat with roti.
Recipe by
Ujwala's Delicacies
at http://www.ujwalasdelicacies.com/banana-leaf-wrapped-veggies-cooked-in-green-coconut/