Red Chori chaat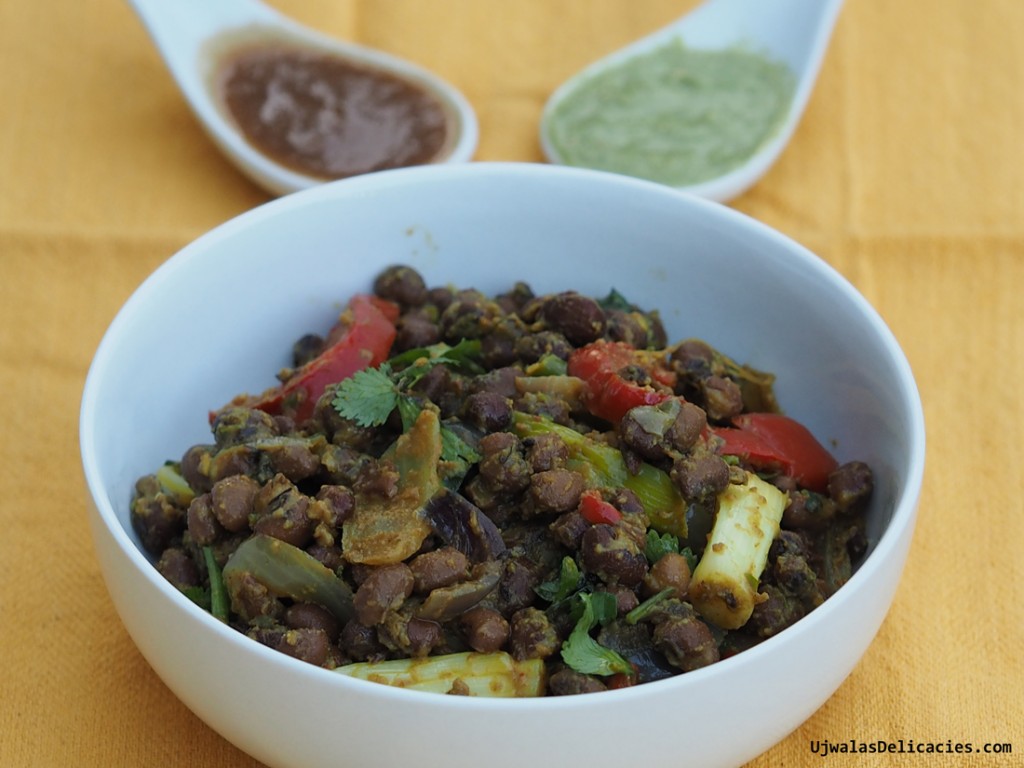 2 cups - Red chori beans / Adzuki beans
1-2 tsp - chili powder depending on your spice level
1 tsp - ground coriander powder
1 tbsp - cumin powder
5 - green onion
1 small red onion
1 - red bell pepper
salt
½ cup sprouts - optional
½ cup thin sev (chick pea flour crunchies)
1 - lime
1 bunch cilantro
salt
Green chutney
½ cup cilantro
½ cup mint (pudina)
1 tbsp - peanuts
salt
Tamarind chutney
½ cup dates - optional. Dates give chutney excellent flavor
1 2 inches tamarind ball
⅛th Tsp - salt
⅛th tsp - garam masala
¼th tsp - jeera powder (cumin)
Soak beans for at least 6 hours.
Add salt and cook beans in pressure cooker or pot till soft.
Add oil in a pot and heat to medium.
Add onion, red bell pepper. Cook for 2 minutes.
Add cooked beans, chili powder, coriander powder, salt and cumin powder. Cook for 10 minutes. Turn off the stove.
For green chutney
Roast peanuts. Let them cool.
Grind peanuts, cilantro, mint, and salt till smooth.
For tamarind chutney
Soak tamarind in as little water for 15 minutes. Squeeze thick juice.
Grind dates, tamarind, and remaining ingredients till paste.
Cook tamarind chutney for 10 minutes till the raw smell is gone.
Separate alfalfa sprouts. Cut cilantro.
Take cooked beans into a serving bowl.
Top with the desired amount of green chutney, tamarind chutney, sprouts, quarter lime, and sev.
Serve immediately.