Quinoa, urad dal khichdi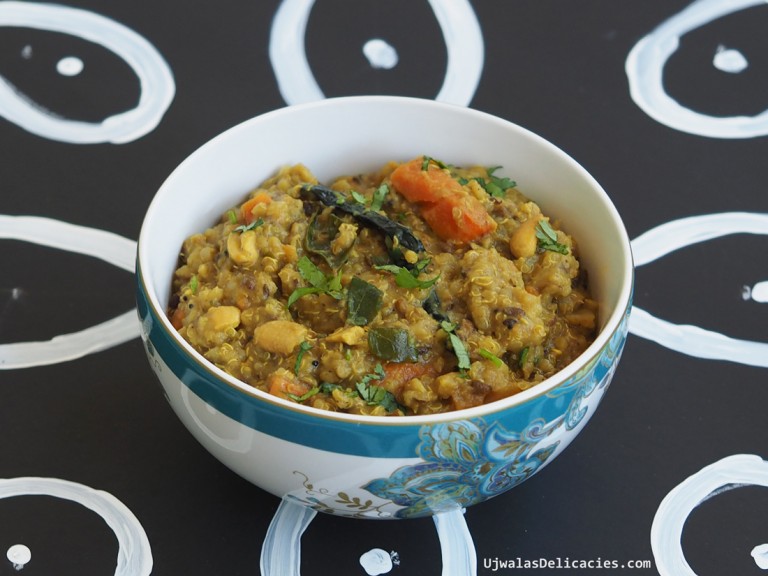 1 cup quinoa
½ - ¾th cup urad dal (black gram lentils)
2-8 small green Thai chilies or red chilies
1 small onion or 3 springs spring onion
1 small carrot
2 oz french beans - optional
2 brussels sprouts - optional
Pink Himalayan salt
1 tbsp healthy oil as coconut or olive oil.
½ tsp black mustard seeds
½ tsp cumin (jeera)
5-8 curry leaves
⅛th tsp turmeric powder - optional
Cilantro
1 tsp - homemade all-purpose spice powder. http://www.ujwalasdelicacies.com/multipurpose-vegan-gluten-free-spice-powder/
Wash and soak urad dal for at-least 2 hours.
It is easy to cook in pressure cooker. If you don't own a pressure cooker, you can still cook in a regular pot, but it needs more water and takes longer to cook.
Add quinoa and urad dal to a pressure cooker. Add 5 cups of water.
Add diced onion, chilies, carrots and other veggies.
Close the lid and cook until 5 whistles. My pressure cooker cooks quinoa in 2 whistles. I cook khichdi for 5 whistles. We need to cook until mushy consistency.
Meanwhile, prepare for tampering. Tampering makes khichdi more flavorful. You can skip tampering to save time. Add oil, chilies and turmeric powder to quinoa and dal mix before cooking. Skip rest of the items.
In a kadai, heat oil to medium.
Add red chilies if using. Cook until brown.
Then add mustard seeds, when they start spluttering, add cumin.
Cook till brown. Add curry leaves.
Whey they stop spluttering add turmeric powder.
Pour hot tampering over cooked khichdi.
Add spice powder. Mix well
Garnish with cilantro, and serve hot.
Optionally pour the desired amount of ghee on top.