Celery, tomatillo chutney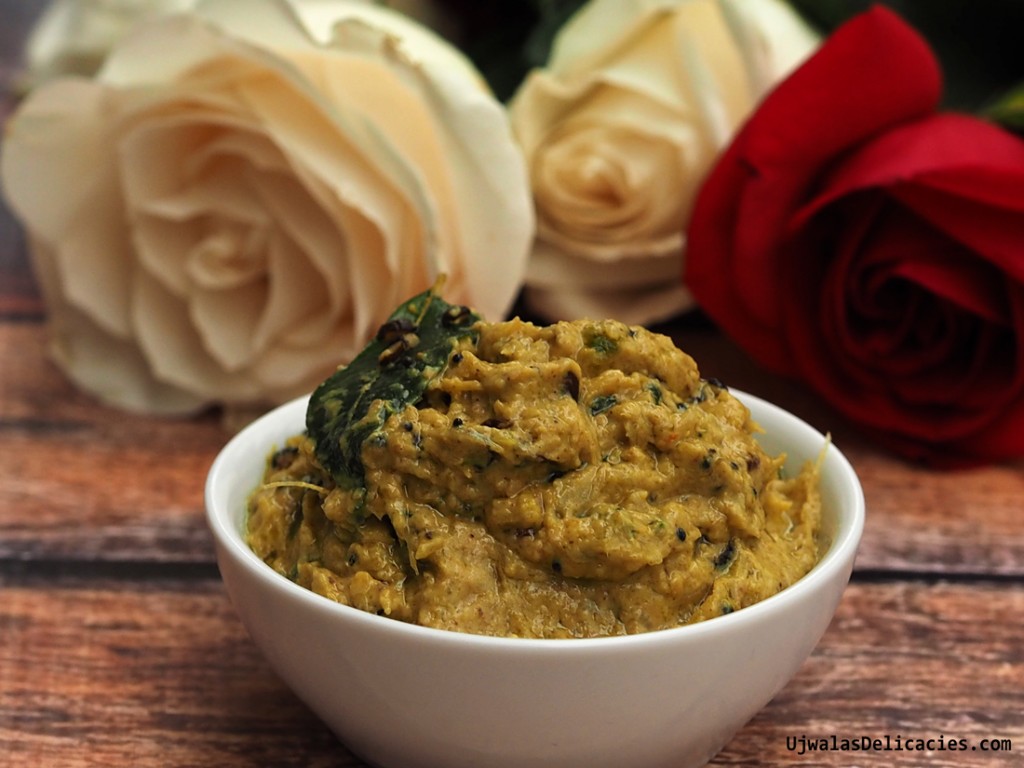 Recipe type:
Main Course, Condiment
5 celery sticks
2 tomatillos
5-8 green Thai chilies. (Use depending your spice level)
3 tbsp healthy oil (Olive or coconut)
Pink Himalayan salt
3 garlic cloves
1 tbsp peanuts or sesame seeds for nut-free
½ tsp coriander powder
⅛th tsp cumin
⅛th tsp mustard seeds
⅓rd tsp black gram lentils
5-8 curry leaves
3 Cilantro sprigs
Cut celery head. Clean celery thoroughly, especially the head part. Usually, mud deposits in between sticks near head area. Dice celery into ½ inch pieces.
Remove husk from tomatillos. Dice to 1-inch pieces.
Heat 1 tbsp oil in a pot. Heat to medium.
Add diced celery, chilies and garlic. Cook for 30 seconds. Stir. Cook 3-5 minutes. Now add diced tomatillos. Add salt.
Close the lid and cook until tomatillos are soft. If you see of water, open lid and cook till water evaporates. Turn off and let it cool.
Meanwhile, heat a pan to medium and roast peanuts of sesame seeds until golden brown. Let them cool.
Add peanut or sesame seeds to the grinder first. Grind to a powder.
Now add celery mixture. Pulse slowly until soft. Make sure all pieces are ground.
Transfer to a bowl.
Now, prepare to tamper. Pour 1½ to 2 tbsp oil in a pot. Heat to medium-high.
When hot, add mustard seeds. When they start spluttering, add mustard seeds. When mustard seeds start cracking, add cumin. Cook until golden brown.
Add black lentils. Fry until golden brown.
Add curry leaves. When they stop spluttering, add turmeric powder. Turn off the stove.
Add tampering to chutney while it is still hot. Deglaze tampered pot with little chutney and add back to the chutney.
This chutney will stay fresh in the refrigerator for 1 week. Use it for as many meals within a week.
Serve immediately with black rice or quinoa or brown rice and enjoy.
Recipe by
Ujwala's Delicacies
at http://www.ujwalasdelicacies.com/celery-tomatillo-chutney/