Asparagus, brussels sprouts chutney in turmeric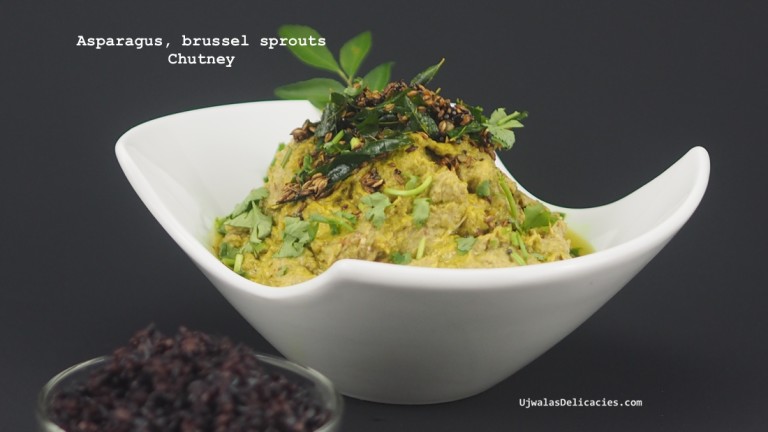 1 cup - brussels sprouts
1 cup - asparagus. Keep healthy tips. Cut 1-2 inches of fiber side of stems and discard.
½ cup - fresh mint leaves - optional
3-5 green chillies. Substitute with any chilies you have. Use appropriately depending on pepper's spice level.
4-5 garlic cloves
2 tbsp - peanuts or walnuts
1 tsp - tamarind juice. If you don't have tamarind, you can use lemon or lime juice.
Salt
4 tbsp your favorite oil. I used coconut oil.
1 tsp - urad dal (black gram/lentils) - optional
1 tsp - cumin
⅓ tsp - black mustard seeds
2 sprigs curry leaves
⅓rd tsp turmeric powder
Cilantro to garnish
Roast peanuts or walnuts in a pan for few minutes. Stir. You shouldn't smell any raw nut taste. Keep aside.
In a small pot, pour 2 tbsp oil. Heat to medium.
Add cumin. Fry till golden brown.
Add green chillies, garlic cloves, mint and brussels sprouts.
Close lid and cook for 3-4 minutes. Stir occasionally.
Now add asparagus.
Add salt. Stir and close lid. If you see water, cook without lid till all water evaporates. Turn off. Let it cool.
Grind nuts in a grinder to powder. Add asparagus, brussels sprouts mixture. Pulse few times. Add tamarind juice or lemon juice. Pulse few more times. Do not grind to fine paste. Leave a bit chunky. Remove into a bowl.
Now prepare tampering. Pour 2 tbsp oil in a pot. Heat to medium high.
When hot, add mustard seeds. When they start spluttering, add cumin. Cook till golden brown.
Add black lentils. Fry till golden brown.
Add curry leaves. When they stop spluttering, add turmeric powder. Turn off stove.
Add tampering to chutney while it is still hot. Deglaze tampering pot with little chutney.
This spread will stay fresh in refrigerator for 1 week. Use it for as many meals with in a week.
Serve immediately with black rice or quinoa or brown rice and enjoy.
Recipe by
Ujwala's Delicacies
at http://www.ujwalasdelicacies.com/asparagus-brussel-sprouts-chutney/