Whole-grain pasta in pumpkin, tomato sauce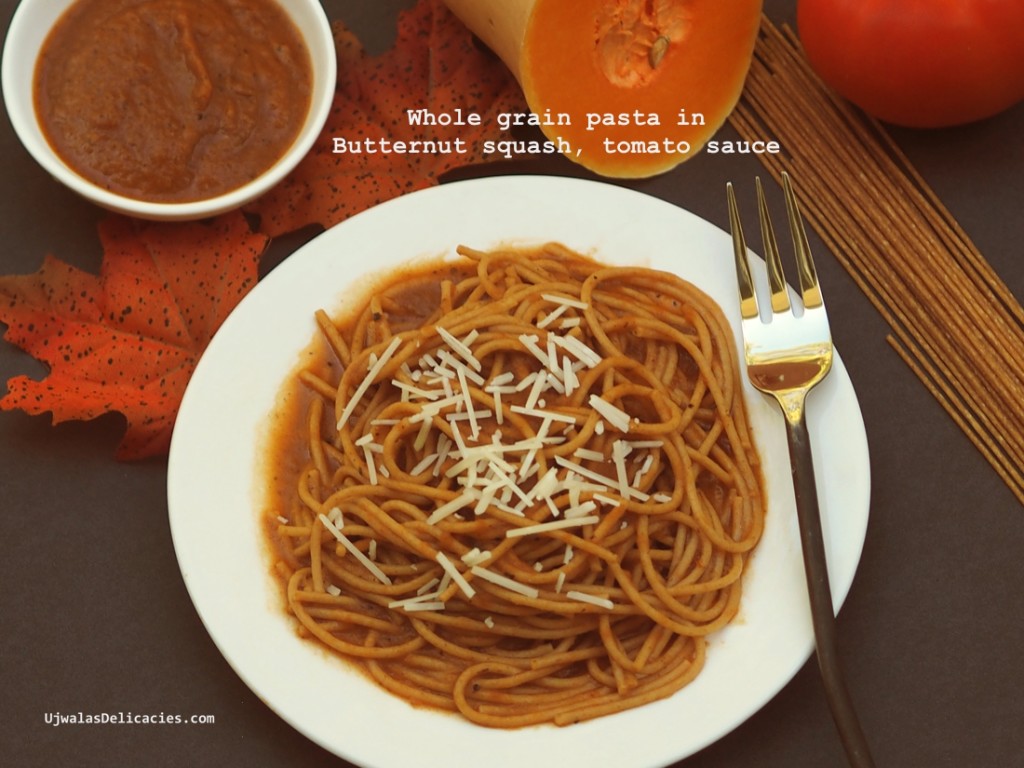 2 cups - pumpkin of your choice
2 cups - roma tomatoes.
2 tbsp - Olive oil
1 small sized red onion
Pink Himalayan salt
8 garlic pods
3 green chillies - optional
1 tsp - brown sugar
½ tsp - dried or fresh oregano
2 sprigs - fresh basil - optional
Boil water in a pot. Turn off heat. Wash and place tomatoes in water for few seconds. I place for 40-60 seconds until at-least one tomato skin slits.
Remove from water. Peel skin. Save water for future use.
Peel pumpkin skin. Cut into cubes.
In another pot, add 1 tbsp oil. Heat to medium.
Add onion, garlic. Fry for 2 mins. Stir.
Add peeled and diced pumpkin, tomatoes and fresh basil.
Cook for 15 mins stirring every 5 minutes. Watch TV in the mean time.
After 15 mins add salt and oregano. Cook another 60 minutes. Stir every 5 minutes.
Add water if sauce becomes thick. If sauce is watery, cook till water evaporates.
Turn off heat. Pour remaining 1 tbsp olive oil on top.
Blend this in a blender or with hand blender. You can store this sauce in refrigerator for 2 weeks.
Cook whole wheat pasta according to package instructions.
After cooking, discard remaining water. Make sure to leave a little water. Extra starchy water keeps pasta moist.
Add sauce to pasta. Stir thoroughly.
Sprinkle your favorite cheese. I used organic parmesan cheese. You can use mozzarella, goat, gorgonzola or blue cheese.
To make it vegan, skip cheese.
Use gluten-free pasta to make it gluten free.
You can make it oil free. Instead of using oil to fry onion, pour a little water and cook. Follow same procedure for remaining.
Recipe by
Ujwala's Delicacies
at http://www.ujwalasdelicacies.com/whole-grain-pasta-in-pumpkin-tomato-sauce/