Rava laddu with palm sugar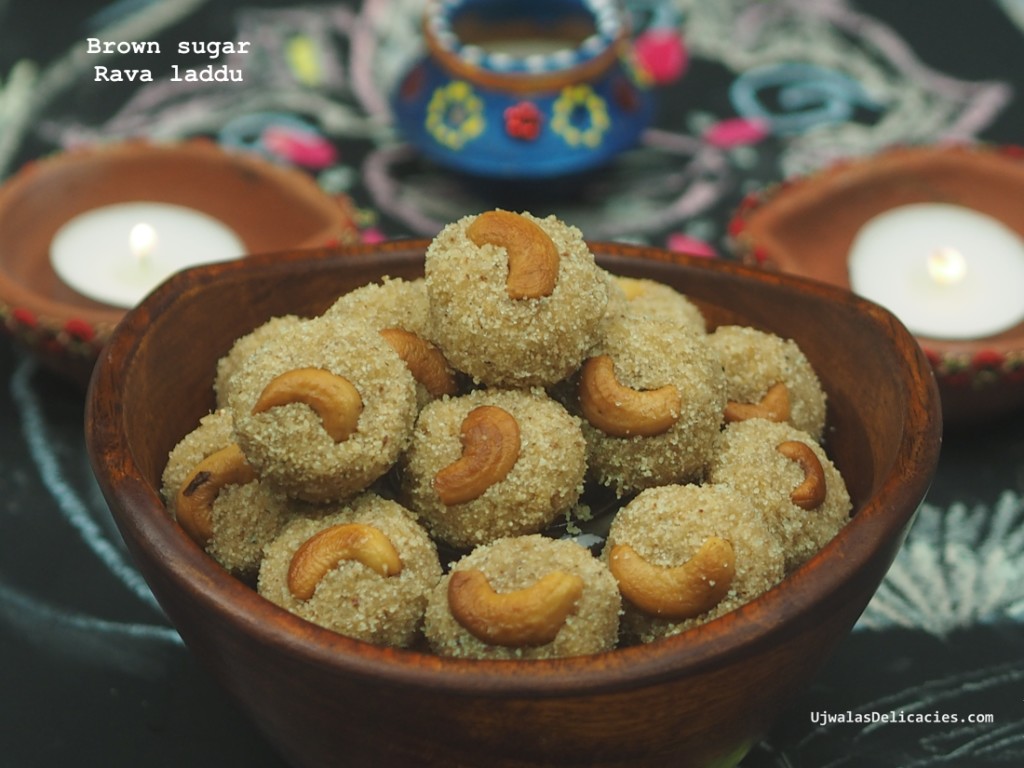 1 cup - Rava (Semolina/Sooji/Bombay Rava)
1 cup - fresh ground coconut
1 cup - grated palm sugar or brown sugar or grated jaggery
½ cup - fresh ghee
⅛ tsp - fresh ground cardamom
1 tbsp - cashews. Optionally add almonds
1tbsp - ice-cold milk
In ¼th tsp ghee, fry cashews and diced almonds.
Roast Rava on medium heat for 5 minutes
Separately roast coconut for 5 minutes
Let them cool.
In a mixing bowl, combine roasted Rava, coconut, palm sugar or brown sugar or mix n match, cardamom, and cashews.
Slowly add melted ghee while mixing thoroughly. Make sure ghee is not hot. If it is hot, it will melt jaggery.
Once you think you can form laddu, don't add any more ghee. If you cannot form intact laddu after pouring all the ghee, take ice-cold milk, add few drops (3-4 drops) at a time, mix well and try to make laddu. Balls look fragile at this time. But after 15 mins or so after milk dries up and ghee solidifies, laddus will be intact. If you are not confident if you can make intact laddus, add little by little honey and mix well. To make it vegan, replace milk with nut milk or soy milk.
Make balls by pressing in your hand.
Serve immediately.
This procedure sounds complicated. But it works perfectly. Compared to white sugar, stickiness in brown sugar or jaggery helps in forming laddus with less ghee.
Eat while fresh. They stay fresh for 3-4 weeks. Adding less milk keeps them fresh for many days.
Refrigerate if you are storing for few days. Using fresh homemade ghee enhances aroma and taste significantly.
Recipe by
Ujwala's Delicacies
at http://www.ujwalasdelicacies.com/rava-laddu-with-palm-sugar/