Chicken butter masala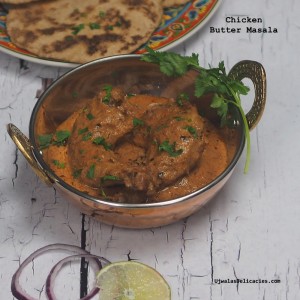 2½ pounds chicken
1 cup diced onion
1 cup diced tomatoes
½ cup - cashews
2 tbsp - heavy whipping cream
3 tbsp - butter
5 tbsp oil to fry chicken
1 tbsp oil for gravy
1 tbsp - chilli powder
1 tbsp - fresh ground coriander powder
⅛th tsp - garam masala (equal portions of cloves, Cassia cinnamon, black cumin and cardamom. Roasted and powdered)
Salt
1 tbsp - ginger garlic paste
1 tbsp - kasoor methi (dried fenugreek leaves)
2 cups - water. More as needed
1 beetroot
Grind onion, tomatoes and cashews with 1 cup of water.
Add 1 tbsp oil to a pot. Heat to medium and add above paste. Close lid, stir occasionally. Cook for about 40 minutes. Add water if paste becomes thick.
Grind beetroot. Place ground beet in a cloth. Close cloth from all sides. Hold the top and squeeze for juice. Keep juice aside.
Add 5 tbsp oil to another pot. Add chicken, and fry till all sides are cooked for about 10-15 minutes. Turn off if chicken is cooked before gravy.
Add gravy, stir and cook for 5 minutes. Add butter, whipping cream, salt, ginger garlic paste, chili powder, coriander powder, garam masala, kasoor methi, beet juice and water if needed. Beet juice gives dishes an excellent natural color. Depending on how much you add, orange and pink colors can be achieved. I never use artificial food colors. In the picture above, 20% of color came from chilli powder, 80% came from beet juice. I used one medium beet.
Close lid and cook till oil floats on top. It may take 15 minutes. It is confusing what oil floating is. With the amount of oil and butter added, it is hard to notice any oil floating. But when gravy is well cooked, it is creamy, darkish colored with oil on top. You can notice it creamy texture and darker color to see whether it is done or not. Turn off when done.
Serve hot with whole-grain naan or roti.